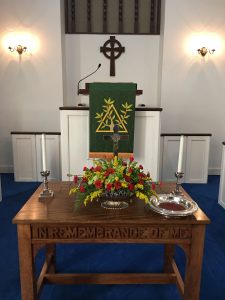 The title of this post came from a comment my mother made as we were traveling. She saw a church sign saying "Thanksgiving is an attitude, not an event." I have been thinking about this quote for several days now, and it has totally impacted my perspective this holiday season. This Thanksgiving week has been full of anticipation, preparation and connection.
Each Sunday, my family sits at the table to discuss the events coming up for the week. It is a time to flush out anything we might have missed in our scheduling and really find out what is most important to each family member. It is a time of planning, praying and brainstorming and how we see the week unfolding.
This week many of us sat around a table to eat a Thanksgiving meal. All the preparation became a reality as we loaded our plates with favorite recipes and talked about our many blessings. There is something very special about sitting around a table. Thanksgiving Day we post pictures of families, friends, food and the beautiful tables that have been set for gathering.
We are invited to "give thanks always for all things" Ephesians 5:20. This means we can enjoy the presence of "thanksgiving" every day. The ordinary moments of life can feel like Thanksgiving Day. As my husband and I were preparing food in the kitchen on Thanksgiving morning, we paused and realized that these moments were like many of the ordinary days in our home. It all starts with the table in mind. I recently finished a study on the tabernacle, and I learned that all the tables built use the measurements from the first table. There is something special that happens when people gather around a table to fellowship and share a meal. Although some may not agree, it is a spiritual experience.
Many families today do not prioritize the importance of the table. It doesn't matter if the meal is sandwich or a steak. The connecting of hands, hearts and fellowship sets the tone for an attitude of gratitude. I remember my mother opening up a can of Campbell's soup and fixing grilled cheese sandwiches presenting this meal on beautiful china around our family table. The feeling of gratitude had nothing to do with the food but the attitude in which it was presented.
"Thankfulness takes the sting out of adversity." Jesus Calling by Sarah Young
I love this quote as it reminds us to stay focused on what we can control. We get to choose how to approach life. I encourage you to make a commitment to gather around the table more in the New Year. There are special blessings waiting for you at the table.
"Thanksgiving is an attitude, not an event." Until next Friday . . .