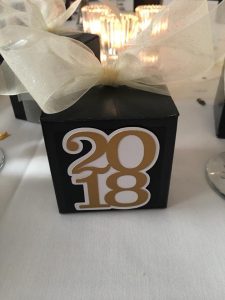 It's the journey, not the destination that counts. How many times have you heard that comment? We usually hear this when we become frustrated by the obstacles on our journeys.
Eight years ago, our family was on a frustrating journey educating our son. After much soul searching and prayer, one day I stopped by The Epiphany School of Global Studies to get more information. My first thought when I pulled in the parking lot was "how will we pay for this?" I had not even walked through the door yet and I was thinking about the obstacle. I opened the door and saw a familiar face. The person sitting at the desk was a college friend of mine. We embraced and began talking about why they had chosen this option for their sons. The next step was to meet the headmaster and director of admissions. The first thing they gave me was a little white box with a gold bow and mission statement stamped on it. It read "Uncovering the Gifts for the Journey".  They explained that the box was empty and through the process at Epiphany, our son would uncover his gifts for life's journey. I didn't care how much the tuition was, this is was the place for us!
Over the past eight years have been many mountain top experiences and several tough challenges. At times we wondered if we were doing the right thing. Will this decision really make a difference? This past month has been full of many celebrations honoring our son as he graduated from The Epiphany School of Global Studies. On my blog last week, I shared a post talking about how "we get to enjoy this moment". The picture I chose for this  week's blog is the party favor we placed on the tables at our graduation dinner. It represents all the gifts that have been uncovered for Joshua's journey as he goes to college. And, what has been surprisingly wonderful is realizing all the gifts my husband and I have uncovered in our marriage, business and life as we stayed committed to the process of educating our son.
Are you intentional about the choices you are making each day to build the life you envision? Decisions are important, however, commitment to the process is even more important. When you fall in love with the process knowing that it uncovers gifts to equip you for the journey, you will embrace each day with a renewed commitment.
Here is to you "uncovering your gifts for the journey"!
Until next Friday . . .