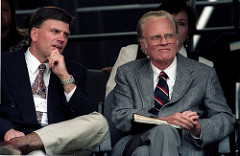 Who is your inspiration? This week Reverend Billy Graham changed his address and left this earth and now is in the presence of the Lord. Many would say that Rev. Graham, a farm boy from Charlotte, NC who followed God's call on his life, was their inspiration. The greatest gift he shared with the world was his humility and willingness to share the good news. He would often redirect any praise or personal recognition right back to God. Rev. Graham also said that his wife, Ruth, gave him the inspiration he needed to keep going back out into the mission field.
Our Facebook feeds and news have been flooded with videos, pictures and testimonies of how Billy Graham influenced the world. My mother shared with me when she was a little girl growing up at the Methodist Home for Children in Raleigh, NC, they would bus the children over to Carter Finley stadium to hear Rev. Graham. She remembers being in awe of the message and how he captured the attention of every person present.  Although I never met or attended a Billy Graham revival or event, I have had the opportunity to attend a conference led by his daughter, Anne Graham Lotz. The conference was called "Just Give me Jesus". I will never forget watching her walk out on stage and thinking "this is Billy Graham with long hair!" She had the gift of leading thousands of women in a moment of a bible study as if we were sitting in a small circle in someone's living room.
A few weeks I wrote a blog titled "Your story is not meant for you". Billy Graham's life represents this message so well. It is not about what you are learning and experiencing in this life, it is about what you share with others. We are called to encourage, love, inspire and lead others. We are one body working together for the good of all. When you break your finger, the rest of your body doesn't say to the finger, I am so sorry you are broken and move along like nothing happened. No, the whole body hurts!
Who inspires you to be compassionate towards the whole human race?
"This life isn't about politics, it is about humanity." Dr. Brene Brown
Does your heart hurt when see others hurting? Are we getting more and more desensitized to what is going around us because it is "too much"? Nothing is too much or too big for God. It is our responsibility to lean on His power to work through us. Our role is not to fulfill the dreams God has placed on our hearts. We are called to stop making excuses and start obeying.
Who inspires you to keep moving, dreaming, searching, learning? When was the last time you had coffee, set up a meeting, or made a phone call to that person? Rev. Graham often put himself in situations which stretched him. If you can achieve the dream placed on your heart by yourself, it isn't big enough.
Thank you Reverend Billy Graham for the legacy you have left. We have been inspired! May we take your example and be the best version of ourselves as we inspire others.
Until next Friday. . .